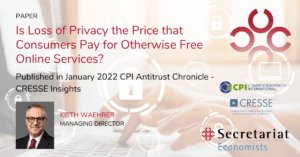 A paper by Managing Director Keith Waehrer titled "Is Loss of Privacy the Price that Consumers Pay for Otherwise Free Online Services?" was published in the CRESSE Special Edition of the January 2022 Competition Policy International (CPI) Antitrust Chronicle.
One of the consumer harms from monopoly online platforms commentators point to is the loss of privacy. However, some view serious difficulties in bringing actions when the anticompetitive effect relate to quality instead of price. In the article, Keith argues that the difficulties in analyzing competition over quality are likely easier to overcome than most think.
The January 2022 CPI Antitrust Chronicle includes articles based on presentations from the Special Policy Sessions ("SPS") organized by CRESSE in collaboration with CPI in September 3-5, 2021. The contributions include articles by several prominent economists and legal experts.
Read Keith's paper here: https://bit.ly/3tVyf1d