Explore Our Areas of Expertise
EI economists have developed substantial expertise in a wide range of practice areas, including analysis of antitrust, class certification, employment and damages matters, among others. We are experienced in auction design, auction strategy consulting and conducting pay equity studies.
About EI
EI is a premier consulting firm in the fields of microeconomics, law and economics, public policy, and business strategy. Our Sr. Economists, Vice Presidents, Sr. Vice Presidents and Principals hold Ph.D.'s from top universities such as MIT, Harvard, Princeton, Stanford, U.C. Berkeley and the University of Chicago. EI operates globally from offices in Washington, DC, San Francisco, and Tallahassee.
Read More
Economists INK: A Brief Analysis of Policy and Litigation
Summer 2017 Issue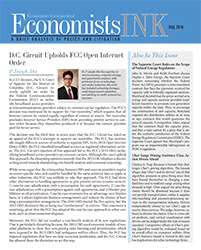 This issue discusses the economic reasoning between three recent court decisions, two in the US and one in China. Dr. Mirrow discusses a Tenth Circuit decision that may have important implications for how courts treat claims of below-cost bundled discounts, as it reinforces the need to show market power and harm to competition as part …
Read the Issue
Economists Incorporated
Economists Incorporated is a premier economic consulting firm in the fields of law and economics, public policy, and business operations. We offer expert consulting and testifying services in the context of proposed mergers and acquisitions, legal disputes, pay equity studies, industry regulation, auction design and strategy, transfer pricing and business planning. Our clients include businesses, trade associations, government agencies, multilateral organizations and individuals. In the context of legal disputes, we are often engaged through counsel.