EI economists regularly contribute to a wide variety of publications including peer-reviewed journals, trade press and books. Our economists frequently prepare reports for government agencies and trade associations and make presentations before industry groups. In addition, EI publishes a quarterly newsletter covering new developments in our fields of expertise. Such fields include but are not limited to law and economics, antitrust, regulation, labor economics and finance.
Economists INK: Spring 2020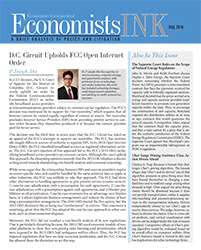 This issue discusses the Federal Trade Commission's ("FTC") recent challenge to the proposed joint venture between Arch Coal, Inc. and Peabody Energy Corporation, the Federal Energy Regulatory Commission's ("FERC") recent order on the PJM Interconnection LLC ("PJM") capacity auctions, and the concern that the collection and commercial use of data by large digital firms may raise novel antitrust questions. Dr. Mirrow indicates that market definition will be a point of contention in the Arch/Peabody litigation — including questions of how traditional inputs (thermal coal) compete with new products and technology (such as natural gas made available through fracking and renewable wind and solar). Dr. Morris discusses how FERC's new PJM order will counteract recent state subsidy programs that have had a price-decreasing effect on capacity. Dr Morris also indicates that states may seek alternative ways to reduce the burden of this order, and thus the new order likely will create uncertainty.  Dr. Stoner discusses the debate among antitrust scholars on how to analyze data markets and whether traditional antitrust tools are adequate. Dr. Stoner finds that there is not a consensus among antitrust scholars on whether data should be analyzed differently than traditional goods and services.
Read the Issue