Secretariat Economists professionals regularly contribute to a wide variety of publications including peer-reviewed journals, trade press and books. Our economists frequently prepare reports for government agencies and trade associations and make presentations before industry groups. In addition, Secretariat Economists publishes a quarterly newsletter covering new developments in our fields of expertise. Such fields include but are not limited to law and economics, antitrust, regulation, labor economics and finance.
Economists INK: Fall 2021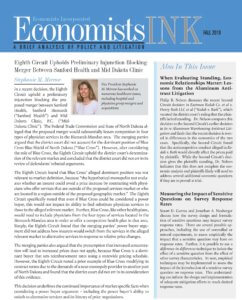 This issue considers the recent Court decision in Hackensack Meridian Health, Inc. ("HMH") and Englewood Healthcare Foundation ("Englewood"), the Federal Energy Regulatory Commission's ("FERC") recently issued Advance Notice of Proposed Rulemaking ("ANOPR") on transmission planning and cost allocation, and market definition in the recent ruling in Epic Games, Inc. ("Epic") versus Apple, Inc. ("Apple"). Allison Holt discusses the Federal Trade Commission's ("FTC") allegations that the HMH-Englewood merger would result in both increased reimbursement rates as well as a decrease in non-price competition in such areas as quality and services offered. Dr. Holt also discusses counter-arguments made by the merging parties, including a broader geographic market and no loss in non-price factors. John Morris discusses the complex issues on which FERC's ANOPR seeks comments and how the current litigation involving PJM Interconnection L.L.C. ("PJM") on transmission cost allocation, including complaints at FERC, highlights the complexity of the issues. Dr. Morris notes that comments on these issues may result in better methodologies for determining which transmission users should pay for system upgrades and how much they should pay. Stephanie Mirrow discusses the Court's consideration of evidence concerning switching costs, alleged lock-in, and substitution in the Apple-Epic decision. Dr. Mirrow indicates that the Court focused on whether the evidence indicated customer decisions are motivated by product loyalty and satisfaction or by switching costs and whether customer surveys could be used to determine likely substitution.
Read the Issue