EI economists regularly contribute to a wide variety of publications including peer-reviewed journals, trade press and books. Our economists frequently prepare reports for government agencies and trade associations and make presentations before industry groups. In addition, EI publishes a quarterly newsletter covering new developments in our fields of expertise. Such fields include but are not limited to law and economics, antitrust, regulation, labor economics and finance.
Economists INK: Summer 2020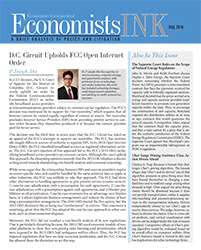 This issue discusses the recent district court ruling denying the Department of Justice's ("DOJ") challenge to the acquisition of Farelogix Inc. by Sabre Corp., franchise no-poach agreements and the recent court decision concerning Burger King Corporation ("BKC"), and whether market concentration measures are good indicators for assessing whether a proposed merger is likely to harm competition in the presence of merger-specific efficiencies. Dr. Arons discusses Judge Stark's findings concerning market definition in the Sabre-Farelogix case, including that DOJ's economic expert was unable to determine the price of booking services and did not attempt to measure the value of the functionality associated with booking services. Dr. Walker discusses recent remarks made by Washington State's Assistant Attorney General Rahul Rao, who believes that the per se standard is the appropriate mode of analysis for franchise no-poach cases, and contrasts this view with the recent decision by a court in the Southern District of Florida that found BKC is legally incapable of conspiring with its franchisees. Additionally, Dr. Walker notes that as no-poach cases move forward, there will be many questions concerning class certification issues, especially commonality and predominance of common issues. Dr. Dutra tests the accuracy of the Herfindahl Hirschman Index ("HHI") as a merger screening tool using Monte Carlo simulations. Dr. Dutra finds that the more substantial and significant the merger efficiencies are, the less likely it is that classifications using the post-merger HHI and the change in HHI will be accurate indicators of post-merger price increases.
Read the Issue