EI economists regularly contribute to a wide variety of publications including peer-reviewed journals, trade press and books. Our economists frequently prepare reports for government agencies and trade associations and make presentations before industry groups. In addition, EI publishes a quarterly newsletter covering new developments in our fields of expertise. Such fields include but are not limited to law and economics, antitrust, regulation, labor economics and finance.
Economists INK: Summer 2019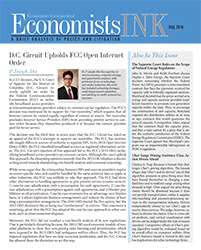 This issue discusses franchise no-poach agreements, the Federal Trade Commission (FTC) and Department of Justice (DOJ) divergence in the Qualcomm case, and the debate on changing the consumer welfare standard (CWS).  Dr. Greulich discusses recent no-poach lawsuits and the debate over whether these no-poach lawsuits should be reviewed under rule of reason or per se standard.  Dr. Stoner discusses the recent opposition between the FTC and DOJ in the Qualcomm case.  Dr. Stoner finds that there are several factors that are somewhat unique to the Qualcomm case that may explain part of the DOJ's divergence from the FTC position.  Dr. Gale discusses the current debate as to whether the CWS should be broadened to include additional non-price measures.  Dr. Gale concludes that while the goal of a broadened CWS is to better protect consumers and promote other societal benefits, a broadened CWS also may have significant drawbacks.
Read the Issue