EI economists regularly contribute to a wide variety of publications including peer-reviewed journals, trade press and books. Our economists frequently prepare reports for government agencies and trade associations and make presentations before industry groups. In addition, EI publishes a quarterly newsletter covering new developments in our fields of expertise. Such fields include but are not limited to law and economics, antitrust, regulation, labor economics and finance.
Economists INK: Summer 2018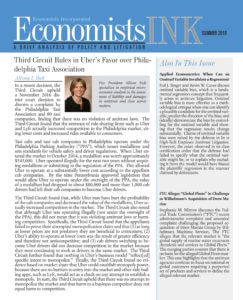 This issue discusses the Third Circuit's ruling in Uber's favor over the Philadelphia Taxi Association, omitted variable bias in antitrust litigation, and the FTC's challenge to Wilhelmsen's acquisition of Drew Marine.  Dr. Holt discusses the key findings in the Third Circuit's decision to uphold that there was no attempt by Uber to monopolize the market and that harm to a business competitor does not equal harm to competition.  Dr. Singer and Dr. Cave discuss omitted variable bias, which is a fundamental regression concept that frequently arises in antitrust litigation.  Claims of omitted variable bias were raised by the defense in In re High-Tech Employee Antitrust Litigation.   Dr. Mirrow discusses the Federal Trade Commission's ("FTC") recent complaints challenging the proposed acquisition of Drew Marine Group by Wilhelmsen Maritime Services.  This case highlights that the antitrust agencies continue to focus on national or global customers requiring a purported set of products and services to define the alleged relevant market.
Read the Issue