Economists INK: Second Quarter 2022
A Brief Analysis of Policy and Litigation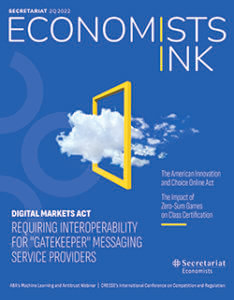 To our readers, I am excited to share the latest edition of Economists Ink with you.
The first article discusses the European Union's recent agreement concerning the Digital Markets Act ("DMA"). The second article discusses The American Innovation and Choice Online Act ("AICO"), sponsored by Senator Amy Klobuchar. The third article considers zero-sum games and the recent District Court decision denying certification to a subclass of more than two hundred professional swimmers seeking monetary damages from the Fédération Internationale de Natation ("FINA").
In the first article, I discuss the DMA's requirement of interoperability between instant messaging services for "gatekeeper" organizations. I consider the tradeoffs between competition and privacy and note that these tradeoffs will depend on how well "gatekeeper" messaging apps are able to address certain technical issues.
In the second article, Robert Arons discusses the proposed AICO legislation. Dr. Arons considers the proposed law's focus on conduct that materially restricts business users from accessing data generated by the largest online platforms. Dr. Arons discusses data externalities and potential costs associated with unrestricted data access. Dr. Arons also reviews recent economic studies that focus on whether or not markets, unregulated, will ensure consumer data are shared optimally.
In the third article, Stuart Gurrea discusses the impact of zero-sum games on class certification. Dr. Gurrea indicates that certain aspects of athletes' economic interactions can be characterized as zero-sum games. For example, in the FINA litigation, appearance fees and prize money gained by one swimmer comes at the expense of other swimmers. This possible conflict of interest played a central role in the District Court's denial of class certification.
Enjoy!
Dr. Stephanie Mirrow
Director
Economists INK: Second Quarter 2022 – The Articles